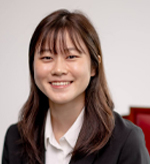 Arika Gin Ong
Associate Lawyer
"Compassion and tolerance are not a sign of weakness, but a sign of strength."
Arika graduated from Singapore Management University in 2022 and was admitted as an Advocate and Solicitor of the Supreme Court of Singapore in August 2023. She is fluent in English and Mandarin.
Qualifications:
Advocate and Solicitor (2023)
LL.B. Singapore Management University, 2022
Arika's Family Law Experience
Arika's passion and interest in Family Law began in Law School during her Pro Bono experience at the Family Justice Courts in 2019. Having seen the impact of these matters on individuals and families from all walks of life, Arika finds meaning in ensuring that each client is heard and supported through their encounter with the Law.
At GJC, Arika works closely with Ms Gloria James on family matters. The scope of matters that Arika has assisted with include the following:
Pre-Divorce Matters
Contested Divorce Proceedings
Simplified Divorce Proceedings
Discovery and Interrogatories Applications
Ancillary matters hearing
Variation applications
Maintenance proceedings
Personal Protection Order Applications
Committal proceedings
Drafting of affidavits, submissions, wills, and various agreements, including but not limited to Deed of Reconciliation/ Marital / Separation Agreements
Conducting research for different points of law pertaining to Family, Criminal, and Civil matters