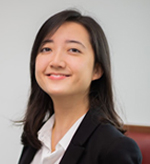 Melanie Low
Legal Manager
"If something is important enough, even if the odds are stacked against you, you should still do it." – Elon Musk
Melanie is a Legal Manager who has been with Gloria James-Civetta & Co since 2017. She assists Ms Gloria directly on criminal matters, and various other associates with the firm's criminal and family matters.
Qualifications
Melanie obtained a Bachelor of Laws (LLB) with the University of London (External Programme) in 2017 and joined the firm the same year as a paralegal. As of 2021, she is enrolled in the Jurisdoctor (JD) Programme with the Singapore University of Social Sciences. She is expected to graduate in 2025 and aspires to be called to the Bar.
Experience
In her four years with the firm, Melanie has tackled tasks ranging from administrative matters, to client management, to drafting legal documents and research, to assisting her various associates in court. In shadowing her associates past and present, she has picked up some valuable skills when it comes to negotiations during a family dispute, as well as how to effectively conduct criminal proceedings with the prosecution. Her work has involved the following:
Criminal Matters

CLAS (Pro-bono) Matters
Protection from Harassment Act Applications
Magistrate's Complaints
Trial Work
Prison Visits
Taking Instructions
Preparing Letters of Representation
Preparing Mitigation Pleas
Research

Family Matters

Uncontested and contested matrimonial proceedings
Annulments
Variation Applications
Maintenance Applications
Personal Protection Order Applications

Non-Court Matters

Letters of Demand
Pre-divorce Negotiations
Pre-Nuptial Agreements
She derives great satisfaction in seeing a case from start to finish, and the most when she is truly able to connect with a client and achieve a result which is objectively fair. She is a firm believer in always finding pleasure in the work, and never taking oneself too seriously.
Past Experience
Prior to joining the firm, she had done internships with two sole proprietors. There she was first exposed to the inner workings of a small firm where everyone had to know a thing or two about everything, and you learned very much on the job. This is something she has taken with her to Gloria James-Civetta & Co, as well as through life itself.