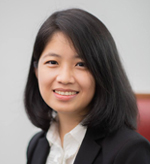 Sheryl Keith Sandhu
Head of Expat Matters Practice
"The best way to predict the future is to create it." – Abraham Lincoln
Sheryl graduated from the Singapore University of Social Sciences in 2020 and was admitted as an Advocate and Solicitor of the Supreme Court of Singapore in 2021. She was appointed as an Associate Mediator with the Singapore Mediation Centre in 2016. She speaks English, Mandarin, Tagalog and Pampango.
Qualifications
Advocate and Solicitor (Supreme Court of Singapore) 2021
Juris Doctor LLB (Hons) Singapore University of Social Sciences 2020
LLB (Hons) (2nd Upper) University of London 2015
Diploma in Law and Management (Temasek Polytechnic) 2010
Membership
Member of the Law Society of Singapore
Member of the Singapore Academy of Law
Prior to being called to the Bar, Sheryl was employed at M/s Gloria James-Civetta & Co. ("GJC") as a Legal Executive. She first joined GJC in 2013 as a Paralegal and has risen through the ranks over the years. In 2021, Sheryl graduated with a Distinction in Family Law Practice for Part B of the Singapore Bar Examinations.
Sheryl has a particular interest in matrimonial proceedings, particularly in child-related proceedings. She believes that as a family lawyer, she has an important role in helping parties to problem solve and support them in making rational decisions and take sensible steps in their journey.
Where children's interests are at stake, Sheryl believes in the importance of having an agreement that is fair, durable and workable to ensure that it is in the children's best interests.
She also believes that alternative dispute resolution, such as Mediation and/or Without Prejudice negotiations/ meetings be explored at the earliest opportunity to assist parties to come to an amicable and harmonious outcome.
Sheryl's Family Law Experience
Sheryl's primary area of practice is family law. At GJC, Sheryl deals largely with the firm's expatriate and high net-worth clients in close association with Ms Gloria James. She has extensive experience in highly contentious and non-contentious matters involving both local and expatriate clients.
The scope of matters that Sheryl has assisted Ms Gloria James include the following:
Stay proceedings;
Ancillary matters hearing;
Relocation applications;
Variation applications;
Injunction applications (including Mareva injunctions);
Child abduction proceedings;
Maintenance proceedings;
Personal Protection Order applications;
Contested divorce hearings;
Annulment proceedings;
Various interlocutory applications;
Adoption proceedings;
Appeals proceedings in both the High Court and Court of Appeal;
Drafting of various agreements, including but not limited to Deed of Reconciliation/ Pre-Nuptial / Post-Nuptial/ Marital / Financial Arrangement Agreements; and
Simplified Divorce proceedings.
Sheryl's Other Experience
Besides Family Law, Sheryl also has experience in civil litigation, criminal litigation and corporate matters.