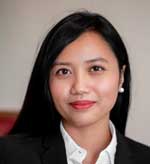 Siti Nurul Hajar
Legal Manager
"Life is a lot more fragile than we think. So you should treat others in a way that leaves no regrets. Fairly, and if possible, sincerely." – Haruki Murakami
Siti is a Legal manager with experience spanning a total of 10 years. She officially joined Gloria James-Civetta & Co in 2015.
Qualifications
Siti is currently an undergraduate with the University of London (International Programmes), pursuing her last year in the Bachelor of Laws (L.L.B.) programme.
She is currently an Associate Mediator with the Singapore Mediation Centre and an Accredited Mediator (Level 1) with the Singapore International Mediation Institute (SIMI).
Siti holds a Diploma in Law and Management from Temasek Polytechnic.
Experience
At Gloria James-Civetta & Co, Siti provides extensive support and assistance to the Managing Partner and Legal Associates of the Family Law department, liaising with expatriate and local clients in both uncontested and acrimonious matrimonial matters. Siti conducts in-depth legal research and prepares legal opinions, skeletal arguments, affidavits and written submissions for contentious interlocutory applications and ancillary matters hearings for matters heard in the Family Justice Court, the High Court and the Court of Appeal.
Siti has also been actively assisting in conducting extensive reviews of employment contracts, company handbooks and corporate agreements for the firm's corporate clients. Siti has also prepared detailed briefs to advise clients on obligations imposed on Employers and Employees (under the Employment Act and other corresponding legislations).
Past Experience
Prior to joining Gloria James-Civetta & Co, Siti had garnered considerable experience in Civil and Criminal Litigation as a Paralegal for a middle-sized law firm for five years. Siti was instrumental as she provided assistance for contested hearings, trials and appeals for the firm's civil litigation matters. She was also part of the firm's specialised debt recovery team, delivering a variety of debt recovery services to established corporate clients. Siti then served as a Legal Executive for two years with a start-up trading company involved in the Agricultural, Lighting and IT industries in a developing country. Here, she actively supported and assisted the management in legal, operational and administrative areas and was instrumental in the preparation of various contracts and legal documentations. She also provided counsel to the management on newly established laws and relevant economic issues faced in the developing country.