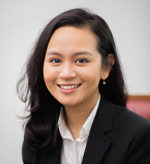 Sara Aziz
Vice-Head of Family & Matrimonial Law Practice
"Tenderness and kindness are not signs of weakness and despair, but manifestations of strength and resolution." – Kahlil Gibran
Sara graduated from the University of Manchester in 2015. In 2016, she obtained a Master of Laws in Intellectual Property Law from Queen Mary University of London. Sara was admitted as an Advocate and Solicitor of the Supreme Court of Singapore in 2018.
Qualifications
Advocate and Solicitor (Singapore), 2018
LLB (Hons), University of Manchester, 2015
Master of Laws in Intellectual Property Law, Queen Mary University of London, 2016
Membership
Member of the Law Society of Singapore
Member of the Singapore Academy of Law
Sara's Family Law Experience
Since entering practice, Sara has experience handling a wide spectrum of cases through all levels of the Singapore Courts. Her core focus is in the practice area of Family Law. She recognises that trust and confidence are key to building lasting relationships with clients. Her approach is to strive to make the divorce process as painless and smooth as possible.
Sara has represented clients in various matrimonial proceedings and has assisted in a variety of contentious, non-contentious, and high net worth divorce matters, with issues ranging from complex matrimonial asset division to custody disputes.
Sara also assists clients in filing for uncontested divorces to ensure uncontested divorces are simple, fuss-free and economical.
Sara is proficient in a wide range of matrimonial matters, such as:
Contentious and non-contentious divorce proceedings;
Maintenance / Child Custody issues;
Marital agreements;
Child adoption proceedings;
Variation of order applications;
Annulment;
Appeal proceedings at the High Court and Court of Appeal; and
Mediation.
As a litigator, Sara has been involved in the following notable cases:
TIC v TID [2018] SGCA 75 – landmark Court of Appeal case where we successfully resisted an appeal. The Court held, for the first time, that the party who would take over the matrimonial share of the matrimonial property should solely bear the ongoing mortgage and property tax payments pending the transfer of the matrimonial property;
VXQ v VXR [2021] SGHCF 38 – successfully obtained a favourable decision for client's share of the matrimonial assets in a contested Ancillary Matters hearing;
VQZ v VRA [2022] SGFC 79 – successfully obtained Interim Judgment for contested divorce proceedings. The Court held that the other party's behaviour was unreasonable and client had met the burden required to prove the irretrievable breakdown of the marriage;
Unreported decision (HCF/DCA 81/2020) – successfully resisted an appeal for variation of child's care arrangements, where the Court held that the other party did not prove that there was a material change in circumstances;
Unreported decision (HCF/DCA 29/2021) – successfully resisted an appeal for variation of maintenance, where we convinced the Court that the other party did not provide sufficient evidence of a material change in circumstances.
Patient, dedicated, and compassionate, Sara ensures the best results for her clients by providing sound solutions with a keen practical awareness of clients' needs and demands. She endeavours to resolve her clients' worries and at the same time act in their best interests.
Sara's Other Experience – Civil and Criminal Litigation
Sara is well versed in dealing with Civil and Commercial disputes where she has acted for both individuals and companies.
Her practice includes:
Company law;
Contractual claims;
Employment disputes;
Defamation claims;
Intellectual Property matters;
Debt recovery; and
Tenancy disputes.
Sara also has experience in Criminal litigation where, she has secured conditional warnings and acquittals for clients accused of various Penal Code and non-Penal Code offences. She is a member of the Law Society Criminal Legal Aid Scheme.