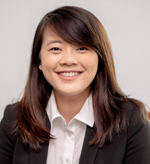 Odelia Tan
Associate Lawyer
"You don't really understand a person until you consider things from his point of view… until you climb into his skin and walk around in it." – Atticus Finch, To Kill a Mockingbird
Odelia graduated from the University of New South Wales Australia in 2021 and was admitted as an Advocate and Solicitor of the Supreme Court of Singapore in July 2023. She is fluent in English and conversant in Mandarin Chinese and Cantonese.
Qualifications
Advocate and Solicitor (Singapore) 2023
Juris Doctor (Distinction) (University of New South Wales) 2021
Bachelor of Commerce (Marketing and International Business) (University of Sydney) 2017
Odelia's Family Law Experience
Odelia's passion and interest in matrimonial law began after her internship at the Family Justice Courts in 2019. Having seen a variety of cases being processed through the Courts and witnessed the long-term impact each decision may have on clients and their families, Odelia strives to ensure that each party is fairly represented and heard and that they leave the Courts better off than when they first came in. She also believes strongly in access to justice and therapeutic justice. As such, she is committed to assisting clients to navigate the oft-bewildering family justice system and helping parties to come to a sustainable and amicable resolution so that healing may begin for everyone involved.
Odelia has assisted in the following areas of matrimonial law:
Pre-divorce matters;
Contentious and non-contentious divorces;
Children custody issues (including relocation and guardianship);
Division of matrimonial assets;
Maintenance issues;
Variation of Family Court Orders;
Personal Protection Order applications;
Various interlocutory applications (including stay applications and discovery and interrogatories applications);
Appeal proceedings in both the High Court and Court of Appeal;
Reconciliation/Pre-Nuptial/Post-Nuptial/Marital/Financial Arrangement Agreements;
Simplified Divorce proceedings.
Odelia also has relevant experience drafting wills, other probate and administrative matters, and criminal and civil matters.