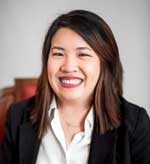 Sandra Ong
Head of Private Client Practice
"The Law is reason, unaffected by desire." – Aristotle (from Works of Aristotle Vol. iii)
Sandra graduated from the University of Southampton, United Kingdom in 2015 and was admitted as an Advocate and Solicitor of the Supreme Court of Singapore in 2017.
Qualifications:
Advocate and Solicitor (Singapore) 2017
LL.B (Hons) (University of Southampton – UK) 2015
Diploma in Law & Management (Temasek Polytechnic) 2012
Membership:
Member of the Law Society of Singapore
Member of the Singapore Academy of Law
Assigned Solicitor, Legal Aid Bureau
Sandra's Experience
Sandra has gained relevant working experience in general litigation, including civil, criminal, matrimonial and Syariah law. Sandra has also been involved in non-contentious work such as probate and administration matters.
Sandra's Family Law Experience
Sandra has a keen interest and passion for family law. This is reflected by her broad experience in all facets of family-related legal issues, such as will-drafting, probate and administration, divorce and ancillary matters, adoption, and guardianship matters. Further, Sandra has had the opportunity to learn and practice Syariah law, advising and representing Muslim clients in divorce proceedings.
Her extensive involvement stems from her desire to uphold the family unit and assist clients to move on from tough situations in the most practicable and pragmatic manner. Therefore, Sandra is a firm believer of mediation and reconciliation (where possible), and this has seen her advocate strongly for her clients but also in a fair-minded and empathetic manner.
She has successfully represented clients in both highly contentious and non-contentious matters involving both local and expat clients. The areas of matrimonial law that she advises on include the following: –
Contentious and Non-contentious divorces;
Annulment of Marriage;
Jurisdiction Issues;
Children Custody Issues;
Maintenance Issues;
Division of Matrimonial Assets (including Third Party Interests);
Marital, Pre-Nuptial and Post-Nuptial Agreements;
Separation Agreements;
Adoption and Guardianship Issues;
Variation of Family Court Orders; and
Family Violence Issues.
Sandra's Estate Law Experience
Sandra has also represented clients in matters relating to estate planning and succession, and estate disputes, under civil law and Syariah law. This includes obtaining letters of administration and grant of probate, drafting lasting power of attorney and wills, advising on estate administration issues, and commencing an action against trustees for breach of duties.
Sandra's General Civil Litigation Experience
Sandra has relevant experience in civil litigation, defending and/or asserting clients' rights in various scenarios, including contract disputes, landlord-tenancy disputes, bankruptcy proceedings and enforcement proceedings (e.g. garnishee order, writ of seizure and sale).
Other Experience
Sandra has represented accused persons in various criminal matters, including writing letters of representation and mitigation pleas. She has also assisted in the registration of trademarks.
Sandra is an assigned solicitor with the Legal Aid Bureau, taking on various pro bono work with the belief of assisting those who need it the most. Outside work, Sandra is an experienced photographer, with a unique preference for analogue and instant cameras.