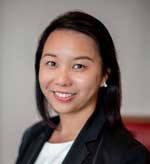 Chong Xin Yi (Liesel)
Head of Dispute Resolution Practice
"Where there is discord, may we bring harmony. Where there is error, may we bring truth. Where there is doubt, may we bring faith. And where there is despair, may we bring hope." – St Francis of Assisi
Chong Xin Yi (Liesel) graduated from the Singapore Management University in 2013 and was admitted as an Advocate and Solicitor of the Supreme Court of Singapore in 2014. She has wide exposure internationally and is fluent and alert to the nuances demanded by the globalised world. She also speaks English, Mandarin, and German.
Qualifications
Advocate and Solicitor (Singapore), 2014
LL.B. (High Merit) SMU 2013
Many clients are at ease with Liesel's professional yet empathetic manner. Your problem will be in her thorough and conscientious hands. She is quick to appreciate client's requirements and prioritises providing efficient and practical solutions.
She is also experienced in Alternative Dispute Resolution and many clients have walked away satisfied with the outcome of their resolution.
Liesel is versatile and will be able to effectively assist and guide you through any stage of your problem.
Membership:
Member of the Law Society of Singapore
Member of the Singapore Academy of Law
Member of CLAS (Criminal Legal Aid Scheme)
Liesel's Family Law Experience
Liesel assists clients in all aspects of divorce proceedings in Singapore, such as child custody & support, spousal support, division of matrimonial assets, injunctions, and Personal Protection Orders. (PPO)
She prides herself on quality work and achieving positive and highly satisfactory results for all her clients.
Liesel represent clients in both straightforward divorce cases as well as high-nett-worth asset divorces involving substantial issues.
Liesel's Civil Law Experience
Liesel is a committed Civil Lawyer with strong and comprehensive knowledge in this field. She represents both individual clients and diverse businesses in a wide range of legal matters including but not limited to:
Shareholder/ Company disputes
Contractual Disputes
Business & Commercial Litigation
Trademark /Copyright disputes
Employment disputes
Medical Negligence
Leases
Property Disputes
Bankruptcy (Representing Creditors)
Accident Claims
Debt recovery
Other Experience:
Outside of her legal practice, Liesel is also a competitive ballroom dancer. She also volunteers at Meet-the -People sessions in her endeavour to contribute to society as much as possible.