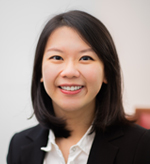 Nicole Thong Xiao Ying
Associate Lawyer
"Let no one ever come to you without leaving better and happier." – Mother Teresa
Nicole graduated from the University of Leicester, United Kingdom in 2018 and was admitted as an Advocate and Solicitor of the Supreme Court of Singapore in May 2021.
Qualifications
Advocate and Solicitor (Singapore), 2021
LL.B (Hons) (University of Leicester – UK), 2018
Certificate in International Business Mandarin – Comprehensive Intermediate issued by Hanban / Confucius Institute Headquarters
Membership
Member of the Law Society of Singapore
Member of the Singapore Academy of Law
Nicole joined the firm as an intern, a Relevant Legal Trainee, Practice Trainee and thereafter an Associate lawyer upon being called to the Bar.
Nicole has had the valuable opportunity to assist Ms Gloria James in hosting the Chinese lawyers during the Singapore-Shaanxi Study Visit Programme, a Ministry of Law initiative in 2018.
Nicole's Family Law Experience
Nicole's primary area of practice is in matrimonial law. At M/s Gloria James-Civetta & Co, Nicole undertakes and assists in contentious and non-contentious family matters involving local and expatriate clients under the supervision and guidance of Ms Gloria James.
The scope of matters that Nicole has assisted Ms Gloria James include the following:
Conducting research for different points of law pertaining to Family Law
Preparing and Conducting mediations at the Singapore Family Justice Courts / Singapore Mediation Centre / private mediations
Preparing and Conducting Without Prejudice Meetings
Applications relating to custody, care and control of the Child
Contested Variation proceedings
Contested Stay proceedings
Contested Ancillary Matters
Contested Relocation Applications
Maintenance proceedings
Interlocutory Applications
Personal Protection Order Applications
Appeal proceedings in the High Court
Drafting of Pre-Nuptial / Post-Nuptial / Marital Agreements
Drafting of simplified divorce papers
Annulment Proceedings
Child Representative
Nicole has also learnt and honed the following skills under the guidance of Ms Gloria James when handling a family matter:
Client care
Oral advocacy including mediation and negotiation techniques
Strategising a case
Nicole's Criminal Law Experience
During her training in the firm, Nicole had assisted Ms Gloria James in several criminal matters including conducting research, preparing for Court mentions and drafting of letter of representations.
Outside of her legal practice, Nicole is an avid tennis player with a strong double backhand.