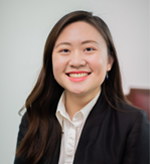 Johanna Yeow
Senior Lawyer
"A good head and good heart are always a formidable combination. But when you add to that a literate tongue or pen, then you have something very special." – Nelson Mandela
Johanna graduated from the Singapore Management University in 2016 and was admitted as an Advocate and Solicitor of the Supreme Court of Singapore in 2017. In SMU, Johanna was awarded the Yong Pung How Bursary (Law) for good academic results, active CCA and community involvement.
Qualifications
Advocate and Solicitor (Singapore), 2017
LL.B, Singapore Management University, 2016
Membership
Member of the Law Society of Singapore
Member of the Singapore Academy of Law
Johanna's General Experience
Johanna gained relevant working experience in general litigation, including civil, matrimonial and employment law. She has also been involved in non-contentious work such as probate and administration matters.
Johanna's Family Law Experience
Johanna handles a range of family law and matrimonial law matters. She was exposed to and assisted in both contentious and non-contentious proceedings at the lower and appellate courts.
She works well with both local and expatriate clients to resolve their family disputes in both contested and uncontested divorces.
Johanna understands that she is helping her clients through what is probably the most emotionally challenging period of their lives. She offers them practical and pragmatic advice, reminding clients to remain focused on the key issues to reach a satisfactory resolution.
Johanna also takes cognizance of the need for a conciliatory approach in family disputes and thus encourages clients explore mediation and Alternative Dispute Resolution where there is a possibility of a fair and amicable settlement.
In particular, she encourages clients to explore mediation as a platform to resolve conflicts amicably and decrease the emotional distress to and friction between all parties involved, especially in cases where there are young children.
The areas of matrimonial law which she advises on include the following:
Simplified Divorce Proceedings;
Contentious Divorce Proceedings;
Custody, Care and Control Matters;
Maintenance of Wife and Children Issues;
Division of Matrimonial Assets (including Third Party Interests);
Appeal proceedings before the High Court;
Marital Agreements; and
Variation of Court Orders (including consent orders).
Johanna's Civil Law Experience
Johanna also has relevant experience in general litigation matters and has assisted in matters including, but not limited to:
Contractual Disputes;
Employment Disputes;
Intellectual Property Matters;
Leases;
Tenancy and Landlord Disputes;
Accident/ Personal Injury Claims; and
Debt recovery
Johanna's Estate Law Experience
Johanna has experience in dealing with issues relating to Wills, Probate and Estate Administration matters. She has conducted applications for the appointment of Deputies (under the Mental Capacity Act), drafting of Wills, and applications for Letter of Administration, Grant of Probate and Memorandum of Resealing.
Johanna's Other Experience
Outside of law, Johanna enjoys reading nonfiction, listening to audiobooks and creating crafts. She also serves the underprivileged through volunteer community work. During her time at SMU, as President of the International Relations Club, she organised annual conferences for international delegates across Asia and hosted students from across the globe. Johanna also speaks elementary Korean. She is thus attuned to the needs of people from all walks of life and different nationalities.