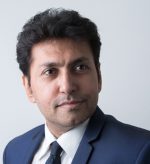 Amarjit Singh Sidhu
Senior Associate
"Living isn't just about doing for yourself, but what you do for others as well" – Nelson Mandela
Amarjit Singh Sidhu's passion is litigation. He is no stranger to the courts and has been commended for his advocacy skills. He has extensive experience in Criminal Law and Family Law matters.
He speaks English, Hindi, Punjabi, and Bahasa Malay.
Qualifications :
Advocate & Solicitor (Singapore)
LL.B (Hons) (University of London) 1996
Training and Experience :
Attorney-General's ChambersAmarjit has extensive experience in Criminal Law from the early 1990`s as a Senior Officer with the Ministry of Home Affairs and later as an Assistant Public Prosecutor with the Attorney-General's Chambers. Amarjit made regular court appearances and prosecuted offenders under the Penal Code, Misuse of Drugs Act, Prevention of Corruption Act, and the Road Traffic Act, amongst others. Amarjit has vast experience in trial litigation.
LecturingAdditionally, Amarjit has maintained a sometime parallel career in academia, having lectured in Criminal Law and Law of Contract with the University of London external undergraduate programme. He has also taught Business Law at degree and post-graduate levels.
Areas of Practice :
Criminal Law

Amarjit has conducted criminal trials at the High court for offences such as rape and several high profile matters such as commercial sex with an underage girl & statutory rape offences.
He has appeared before the Appellate Court for a criminal appeal and acted for expatriate clients accused of committing criminal offences and has successfully secured withdrawal of charges or composition for them after representations were made to the Attorney-General's Chambers.
He has acted for clients charged with sexual offences, assaults on taxi-drivers, corruption offences, drink-driving, maid abuse, drug offences, white-collar offences and many more.
Amarjit is the lawyer you want to appoint to deal with your criminal matter.

Insurance Law
He has advised major insurers on claims and compensation issues. In a previous established law firm, Amarjit had assisted in the area of Director and Officer (D&O) insurance.
Family Law
Amarjit has had conduct of numerous trials for Contested Divorces, Personal Protection Orders, Spousal/Child Maintenance, Access and Custody issues, Committal Proceedings and Ancillary Matters.He has conducted Nullity proceedings.Amarjit has done Appeals at the High Court.Amarjit is caring, empathetic and passionate in getting the best outcome for his clients. Amarjit also has had considerable success at Mediation.
Coroner's Inquiry

Amarjit was in a team of five lawyers that had conduct of the Coroner's Inquiry into the death of American scientist in 2013.
Amarjit was also part of a team that was in the Coroner's Inquiry to determine the cause of death of an American woman who fell off from the Swisshotel.

Civil Law
Amarjit has had conduct of landlord-tenancy disputes at the High Court. He has acted for clients in million-dollar contractual disputes at the High Court.He has also acted for shareholders in their disputes with Directors of companies. Amarjit has had conduct of civil trials at the District and High Court.
Corporate Law
Venturing into the commercial world, Amarjit held concurrent positions as General Manager and In-house Counsel for an Australian asset management company. Adding to his business credentials, Amarjit has also ventured into the F&B industry in Singapore and the retail industry in Australia. Amarjit believes these enterprises have brought a depth of experience to his legal practice; thus allowing him to better identify with the needs of business clients.
Court Martial

Amarjit has defended SAF regulars and NSFs before the Court Martial.
Membership
Member of the Law Society of Singapore
Member of the Singapore Academy of Law
Member of the Criminal Law Practice Committee of the Law Society of Singapore
Member of CLAS (Criminal Legal Aid Scheme)
Member of the British Chamber of Commerce
Panel of Lawyers list for several embassies in Singapore
Others
Amarjit does give his time to doing Pro Bono work. He regularly represents pro bono clients in criminal matters and is a volunteer lawyer with the Law Society's Criminal Legal Aid Scheme (CLAS)
Beyond his practice, Amarjit dedicates some of his spare time to charitable causes. Notable was his involvement in the production of a film in aid of the Yellow Ribbon Project. Clients will benefit from his passion professionalism unerring assessment of their cases and sound legal advice.