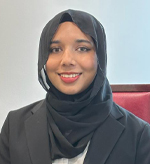 Tara Adam
Associate Lawyer
"It takes a great deal of courage to stand alone even if you believe in something very strongly." – Reginald Rose, Twelve Angry Men
Tara graduated from the University of Tasmania in 2020 and was admitted as an Advocate and Solicitor of the Supreme Court of Singapore in 2023. She is fluent in English and conversant in Tamil.
Qualifications
Advocate and Solicitor (Singapore), 2023
LLB (Hons), University of Tasmania, 2020
Membership
Member of the Law Society of Singapore
Member of the Singapore Academy of Law
Tara's Family Law Experience
Tara's keen interest in serving others and helping those in need inspired her to study law and eventually become a family lawyer. As a legal trainee, Tara had extensive exposure to contentious and non-contentious matrimonial disputes in both the Civil and Syariah Courts.
Over the years, Tara has learnt the importance of leading with compassion when assisting her clients; finding a solution without understanding the wholistic needs of a client is aimless. While family law can be complicated and emotionally exhausting, Tara strives to simplify court processes in a comprehensive way for her clients and to leave them feeling empowered.
Tara has assisted in the following areas of matrimonial law thus far:
Pre-divorce matters;
Contentious and non-contentious divorces;
Children care, custody and control matter;
Division of matrimonial assets;
Maintenance issues;
Variation of Family Court Orders;
Personal Protection Order applications;
Various interlocutory applications (including stay applications and discovery and interrogatories applications);
Appeal proceedings in the High Court;
Simplified Divorce proceedings.
Other Experience
Tara also has relevant experience in civil litigation, contractual disputes, drafting wills, and other probate and administration matters. Outside of her legal practice, Tara volunteers as a Befriender at the Girls Home and enjoys doing arts & craft projects.