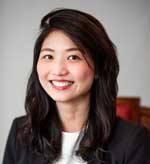 Soh Yan Ru Samantha
Senior Lawyer
"Never forget that justice is what love looks like in public" – Cornel West
Samantha graduated from the University of Liverpool in 2014 with a Second-Upper Honours degree. In 2016, she was called to the Singapore Bar. Prior to reading law, she completed her Bachelor Degree in Arts (Media and Communications) in 2011.
Qualifications
Advocate and Solicitor (Singapore), 2016
L.L.B (Hons), University of Liverpool, 2014
Bachelor of Arts (Media & Communications), 2011
Membership:
Member of the Law Society
Criminal Legal Aid Scheme
Legal Aid Bureau
Samantha's Family Law & Probate Experience
Samantha understands that divorce/separation can be very traumatic and emotional for most people. Her focus is to find quick, pragmatic and hopefully amicable solutions for her clients so as to save on the emotional and financial cost of litigation. If litigation becomes necessary, she is a determined litigator who remains focused on the critical issues to achieve the best possible result for her clients.
Samantha is no stranger to both contentious and non-contentious divorce proceedings, as well as maintenance applications. She is also well-versed in matters involving care and control and interim orders. Of note, Samantha has represented clients in the following matters:
Contentious and non-contentious divorce proceedings
Interim custody, care and control
Maintenance and Variation applications
Appeal proceedings at the High Court
Obtaining an order for financial relief in respect of foreign divorce
Child adoption proceedings
Probate proceedings: applications for Grant of Probate or Grant of Letters of Administration
Samantha's Criminal Law Experience
Apart from her experience in advising and managing divorces, Samantha brings a wealth of knowledge to the criminal field. She takes great pleasure in securing the best possible outcome for her clients, thereby helping to bring them a step closer to putting their lives back on track.
Of note, Samantha has represented clients in the following criminal matters:
Assault
Robbery
Criminal Intimidation
Drugs offences
Unlicensed moneylending (UML)
Traffic offences
Money laundering under the CDSA
MOM offences
Samantha's Civil Law Experience
Samantha is also well placed to advise on matters of general litigation disputes. She has acted in a large variety of civil matters:
Tenancy and landlord disputes
Breach of contract / agreement
Accident insurance claims
Enforce Judgment or Orders by Garnishee, Examination of Judgment Debtor
Samantha is also a practiced hand at alternative dispute resolution. She has assisted clients with mediation, negotiation and other alternatives to formal court proceedings.