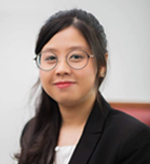 Lena Tan
Associate Lawyer
"It is not what a lawyer tells me I may do; but what humanity, reason and justice tell me I ought to do" – Edmund Burke
Lena graduated from Temasek Polytechnic as the top student of her cohort in the Diploma of Law and Management. She moved on to complete her studies in law in the Singapore Management University and graduated in 2019. She was admitted as an advocate and solicitor of the Supreme Court of Singapore in 2020.
Qualifications:
Advocate and Solicitor (Singapore) 2020
LL.B, Singapore Management University, 2019
Diploma in Law and Management with Merit (Temasek Polytechnic), 2015
Membership
Member of the Law Society of Singapore
Member of the Singapore Academy of Law
Lena's Family Law & Probate Law Experience
Lena recognises that conflicts in the family are often very difficult to navigate through and can be one of the most distressing experiences in an individual's life. She is therefore a firm believer of mediation over the adversarial approach and where possible, aims to help parties reconcile and resolve their conflicts amicably.
Lena is committed to assisting her clients to obtain the best possible outcome so that they would be able to have closure and move on with their lives. She also resolves to provide clients sound advice and pragmatic solutions with a personal touch.
Lena has relevant experience in the following areas of matrimonial law: –
Contentious and Non-contentious divorces;
Children custody issues;
Division of matrimonial assets;
Maintenance issues;
Variation of family court orders;
Personal protection orders; and
Child adoption proceedings.
Lena also has relevant experience in matters relating to estate planning and succession, including obtaining drafting lasting power of attorney and wills
Lena's Commercial and Civil Litigation Experience
Apart from her experience in matrimonial matters, Lena has extensive exposure and relevant experience in a wide range of civil matters including but not limited to: –
Contractual disputes;
Shareholder/ Company disputes;
Business & Commercial litigation;
Employment disputes; and
Tenant and landlord disputes.
Other Experience
Lena has also assisted in defending against proceedings instituted under the Competition Act and has relevant experience in drafting and reviewing commercial agreements and employment contracts.