Mandatory Co-Parenting Programme (CPP)

In a continuing effort to support child-centricity in divorce and to remind parties of the importance of co-parenting, the Mandatory Parenting Programme ("MPP"), which is compulsory by s94A of the Women's Charter, has been renamed to Mandatory Co-Parenting Programme ("CPP").
This process will affect couples who cannot agree on the grounds for divorce and child-related issues.
This programme is mandatory for any party initiating divorce proceedings (or filing a counterclaim in current divorce proceedings) and those with at least a child below 21 years old. It is mandatory to attend the two-part programme, beginning with an online e-learning (of about 1.5 hours) followed by a 1-hour consultation before filing for divorce.
This consultation is attended individually or as a couple and conducted by counsellors from the Strengthening Families@FSC ("Fam@FSC") or the Ministry of Social and Family Development's Divorce Support Specialist Agencies ("DSSA").
The consultation seeks to help applicants cope with the realities of divorce and provide information about a divorce's housing and financial implications. Applicants will also learn about the impact of divorce on the child(ren) and how to co-parent effectively and amicably after the divorce.
The Application Process
Completing the CPP should not significantly prolong the divorce proceeding. Your divorce lawyers will concurrently prepare and obtain the necessary supporting documents for your divorce application. As your lawyers, we will do our best to ensure minimal delay.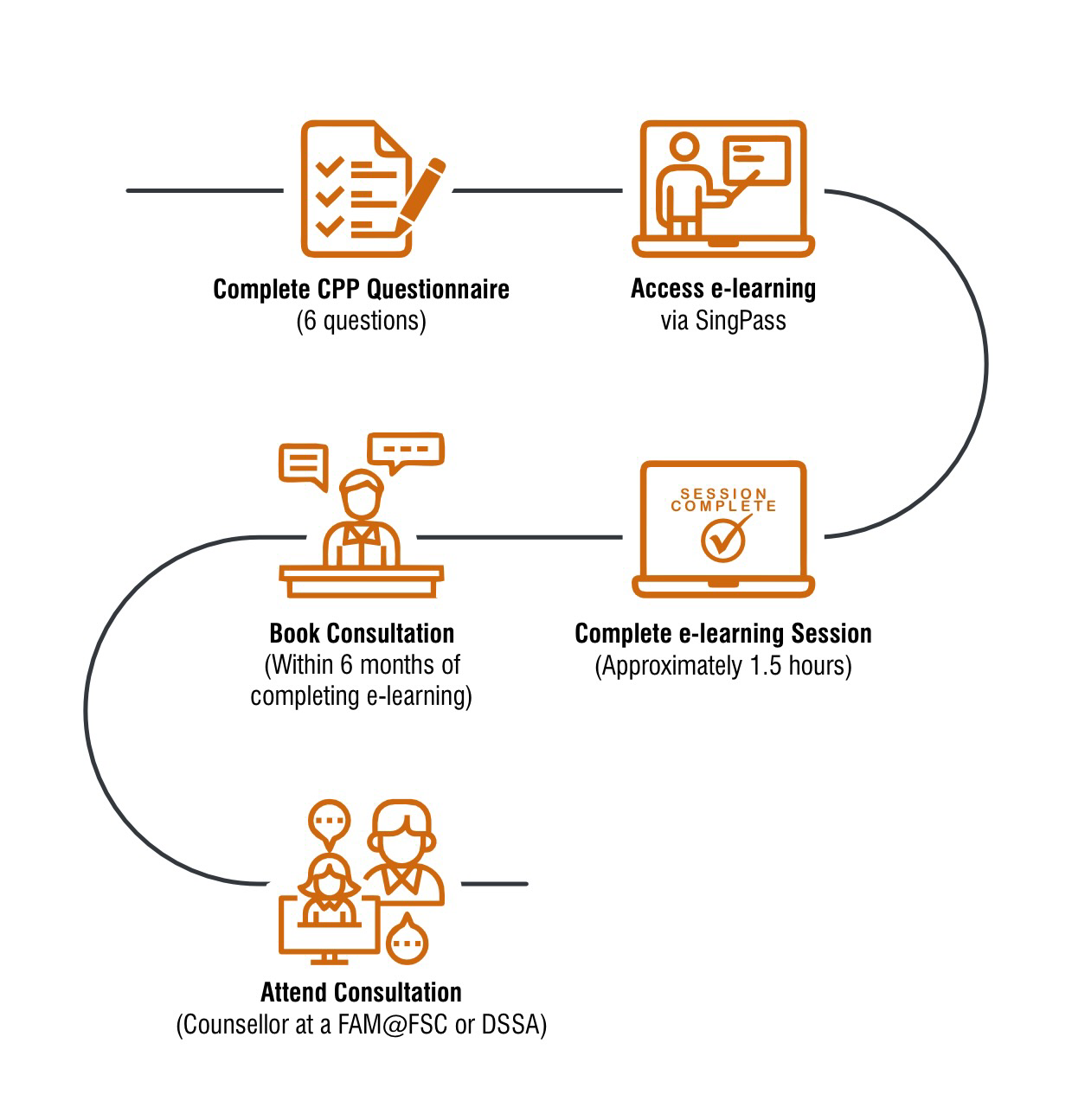 FAQs on the MPP Process
DSSA Locations:
Care Corner Centre for Co-Parenting
Thye Hua Kwan Centre for Family Harmony @ Commonwealth
HELP Family Service Centre