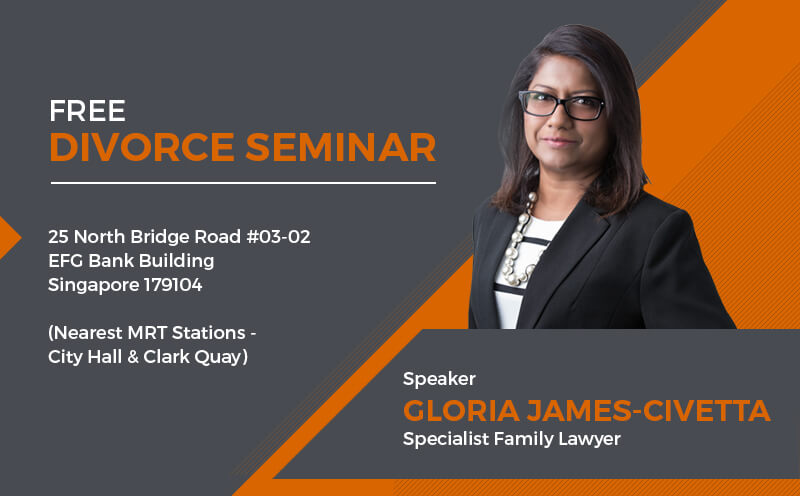 Attend our Free Divorce Seminar
Venue:
25 North Bridge Road #03-02 EFG Bank Building 179104
Nearest MRT Stations – City Hall & Clark Quay
Time: 10:00 a.m.
Dates:
14 October 2017 Register
18 November 2017 Register
The seminars are conducted by specialist family lawyer Ms Gloria James, Managing Partner at GJC Law.
What is involved in the divorce process?
What are the grounds for divorce?
What initial steps to I need to take to start the process?
What you need to know about divorce
The seminars are free and open to the public, designed to provide you vital information and educate you if you are experiencing or contemplating this difficult transition.
This is an information only seminar, so individual and ongoing cases cannot be discussed.
Singapore Divorce Process – We explore the five methods of obtaining a divorce in Singapore.
Common Issues in the Divorce process – We will discuss Child Custody & Support issues, Property Division and Spousal Support.
The duration of the seminar will be about 60 minutes, depending on the number and type of questions raised by our attendees.
If you have questions about the divorce process in Singapore and want a place to start, we hope to see you there.
Snacks and beverages will be provided.