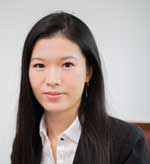 Theresa Chan
Associate Lawyer
"The meaning of things lies not in the things themselves, but in our attitude towards them." – Antoine de Saint-Exupéry
Theresa graduated from University College London in 2017 and was admitted as an Advocate and Solicitor of the Supreme Court of Singapore in 2020.
Qualifications
Advocate and Solicitor (Singapore) 2020
LL.B (Hons) (University College London) 2017
Family Law Experience:
Theresa emphasises on guiding clients through what may be a stressful period in their lives. She is patient and attuned to each client's concerns so that she is better able to help them understand the legal process and their options at each stage. She encourages clients to explore mediation and alternate dispute resolution where there is a possibility of a fair and amicable settlement. However, she is always aware of the need to protect her clients' interests.
Theresa has experience in the following aspects of family law:
Uncontested and contested matrimonial proceedings
Annulment
Variation applications
Personal protection orders
Child custody issues including relocation
Lasting Power of Attorney and Mental Capacity Act
Corporate Law Experience:
Theresa has drafted and reviewed a broad range of corporate agreements ranging from share subscription agreements and employee share option plans to tenancy agreements.
Civil Litigation:
She also has experience in a wide scope of litigation work including contractual disputes and accident claims.