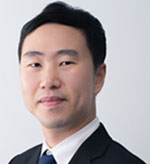 Hong Quan
Senior Lawyer
"To know what you know and what you do not know, that is true knowledge." – Confucius
Hong Quan graduated from the Singapore Management University in 2012 and was admitted as an Advocate and Solicitor of the Supreme Court of Singapore in 2013.
Qualifications
Advocate and Solicitor (Singapore) 2013
LL.B (High Merit), SMU, 2012
Membership:
Member of the Law Society of Singapore
Member of the Singapore Academy of Law
Previous Experience:
Hong Quan started practice in a local boutique law firm with a focus on family law. In addition to matrimonial and family matters, the first few years of his practice has seen him being actively involved in a gamut of litigation matters ranging from contractual and property disputes to insurance claims.
Family Law Experience:
Hong Quan endeavors to help parties make the best of their circumstances and move on with their lives. He believes that matrimonial proceedings should be conducted amicably whenever possible and appropriate but he is quick to go for the kill if the situation calls for it.
He has advised both local and expatriate clients on the following:
Deed of Separation, Post-Nuptial and Pre-Nuptial Agreements
Pre-Writ Without Prejudice Negotiations
Simplified Divorce Proceedings
Contentious Divorce Proceedings
Matters relating to custody, care and control & relocation
Issues relating to the maintenance of spouse and children
Division of Matrimonial Assets (including divorces granted by a foreign court and third-party claims on matrimonial assets)
Variation of Court Orders (including consent orders)
Enforcement of Court Orders (including committal proceedings)
Personal Protection Orders
Adoption and non-divorce applications relating to the child
Other Experience:
Outside of litigation, Hong Quan has also been involved in mediation and without-prejudice meetings. He is also familiar with the following scope of work:
Matters relating to the Protection from Harassment Act;
Drafting of Wills and estate matters;
Issues relating to the Lasting Power of Attorney;
Trademark registration and infringement;
Drafting and negotiations of commercial and residential tenancy agreements;
Drafting and review of employment contracts
In his free time, Hong Quan reads widely to broaden his general knowledge and enjoys a good game of badminton. He is a regular volunteer at a nursing home.